Extinction Rebellion started after 'psychedelic' drug trip, co-founder
One of the co-founders of an environmental pressure group which paralysed London in April says she was inspi..
---
One of the co-founders of an environmental pressure group which paralysed London in April says she was inspired by psychedelic drugs.
Gail Bradbrook, who was one of the original members of the Extinction Rebellion group, told a BBC documentary she took "psychedelic medicines" and went to pray, while on a retreat.
She told the Inside Out West programme: "I've always been interested in how things change, in social change.
"I was involved in the animal rights movement as a young woman, I've been involved in thinking about gender and issues around racism and so on.
"I'd been focused on trying to start civil disobedience since 2010 and I've tried many things and they didn't work, so I went on a retreat and prayed in a deep way with some psychedelic medicines.
Advertisement
"It was a really intense experience and I actually prayed for what I called the codes for social change, I thought there must be something I don't understand, and within a month my prayer was literally answered."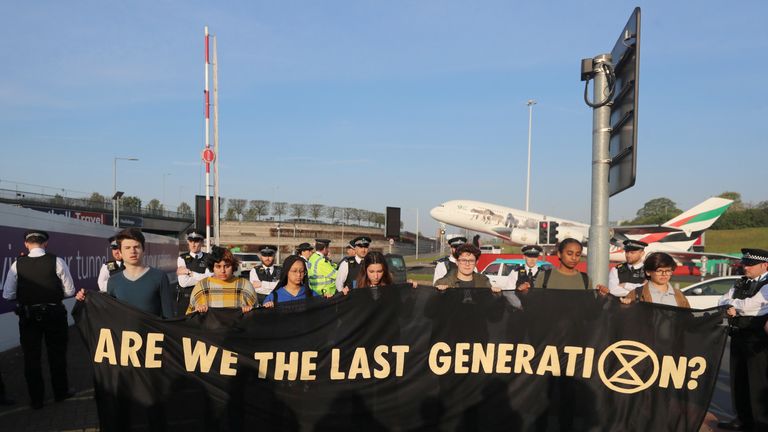 The movement began in the Gloucestershire town of Stroud, but large protests quickly spread across the UK.
More from Extinction Rebellion
Dr Bradbrook, a molecular biologist, said it started with around 12 people in her house but went worldwide within a year.
In April, hundreds of activists were arrested as people superglued themselves to doors and buses to raise awareness of what they say is an impending extinction event if the climate crisis isn't acted on now.
The group now has 100,000 members on its UK database with about 130 groups operating across the country.
:: A New Climate is a special series of podcasts from Sky News Daily. Listen on Apple Podcasts, Google Podcasts, Spotify, Spreaker
It's a model that has been copied in 59 countries and there are some signs the group has been successful in moving the political agenda, with several major media organisations changing the words they use to describe "climate change" to "climate crisis".
In June, after she agreed to step down having failed to achieve Brexit, then prime minister Theresa May announced the UK would become the first G7 country to pledge to be carbon neutral by 2050.
She later said she was inspired by seeing shrinking glaciers on her walking holidays in Switzerland but the move was weeks after the Read More – Source