Scorching summers and wetter winters lie ahead for UK
Weather in the UK could become increasingly extreme with summer temperatures up to 5.4C (9.7F) hotter and..
---
Weather in the UK could become increasingly extreme with summer temperatures up to 5.4C (9.7F) hotter and winters up to 4.2C (7.6F) warmer by 2070, according to latest projections.
The new data released by Environment Secretary Michael Gove – the first major update of climate forecasts in almost 10 years – shows sea levels in London could rise by up to 1.15m by 2100 if emissions continue to rise.
By 2070, average summer rainfall could decrease by 47% and there could be up to 35% more rainfall in the winter.
The projections, made using the latest Met Office technology, also show rising sea levels around the country over the next century, with an increase in the frequency and magnitude of extreme water levels around the UK's coastline.
Speaking at the Science Museum in London on Monday, Mr Gove said: "This cutting-edge science opens our eyes to the extent of the challenge we face, and shows us a future we want to avoid.
"The UK is already a global leader in tackling climate change, cutting emissions by more than 40% since 1990 – but we must go further.
"By having this detailed picture of our changing climate, we can ensure we have the right infrastructure to cope with weather extremes, homes and businesses can adapt, and we can make decisions for the future accordingly."
His extreme weather warning comes on the 10th anniversary of the Climate Change Act – the world's first law to cut greenhouse gas emissions.
However, chairing an event in parliament to mark the anniversary, the Green Party's Caroline Lucas is expected to brand the act as "way past its sell-by date" and tell government banning straws and drinking from reusable cups "isn't enough".
The UK Climate Projection 2018 (UKCP18) data highlights what Britain faces if no further action is taken to combat climate change.
The data is intended to be used as a guide to decide whether flood defences need boosting, if new infrastructure needs to be implemented or if there could be new ways of developing farming for drier summers.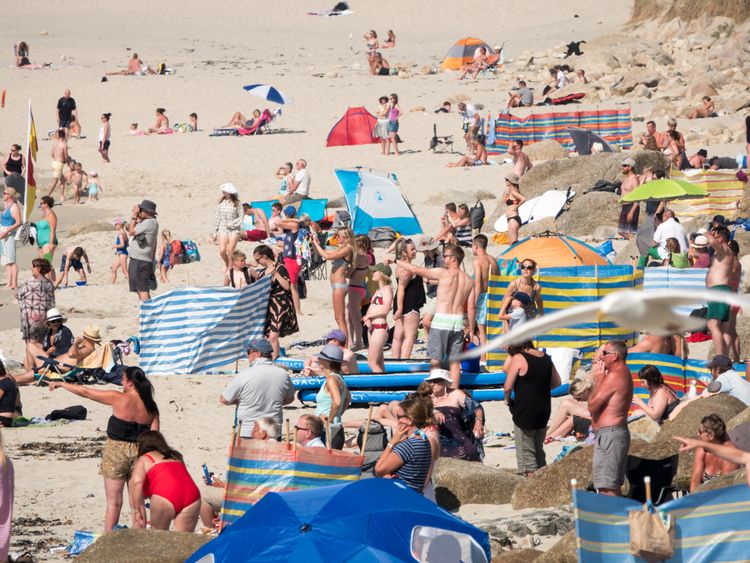 The Department for Environment, Food and Rural Affairs' (DEFRA) chief scientific adviser Ian Boyd said the projections would "help everybody make better decisions" when it came to buying houses and making investments.
Met Office chief scientist Stephen Belcher said the data allowed researchers to look at how seasonal weather patterns will change in the future.
"For example, heatwaves like the one we experienced in the summer of 2018 could be normal for the UK by mid-century," he said.
Despite praise for the new data, campaign group Friends of the Earth accused the government of dragging its heels in the global fight against climate change, saying rapid action is more urgent than ever to tackle man-made weather extremes.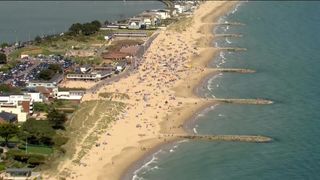 As part of its campaign, Friends of the Earth has warned several communities face "further catastrophe" because they are at the "front line" of climate change – including:
:: Communities in Norfolk, which could fall into the sea because of coastal erosion
:: Moorlands in the North West, which risk being turned into tinderboxes as a result of soaring summer temperatures
:: York and Leeds, which experienced devastating flooding off the back of Storm Desmond in 2015
:: Low-lying communities in Somerset, where floods in 2014 left homes and farms completely submerged with a knock-on effect on farming and production
:: Farms in Surrey, Kent and East Anglia, left parched after weeks on end with no rain and crop yields lowered by upwards of 40%
:: Devon and Cornwall, where coastal railways have collapsed into the ocean because of Atlantic storms
The group is calling for a number of urgent measures which include generating eight times more renewable electricity than current levels, the rapid development of decentralised rooftop solar power and halving food waste by 2030.
The government hit back saying the UK was a world leader in tackling climate change, adding: "Low carbon generation provided more than half of the UK's electricity for first time last year but we cannot afford to stand still.
"That is why we've asked our independent climate change advisers for advice on a net zero emissions target and are investing over £2.5bn in innovation to deliver clean growth."
[contf]
[contfnew]

[contfnewc]
[contfnewc]