PM attacks 'unacceptable' Grenfell bonfire video
Theresa May has criticised an "utterly unacceptable" video which shows a model of Grenfell Tower being burne..
---
Theresa May has criticised an "utterly unacceptable" video which shows a model of Grenfell Tower being burned on a bonfire.
The "vile" footage shows a group of people holding a cardboard effigy of the west London apartment block, where dozens of people were killed in a blaze last June, before placing it onto a bonfire.
The model includes cut outs of people peering out the windows, and even has one dangling from the top.
The prime minister tweeted: "To disrespect those who lost their lives at Grenfell Tower, as well as their families and loved ones, is utterly unacceptable."
Home Secretary Sajid Javid also condemned the video, calling it "disgusting, shameful, behaviour".
In the clip, members of the group can be heard laughing and shouting "help me, help me".
As the fire climbs up their effigy, one of the people question whether they should have put the tower on upside down, because the fire started on the 10th floor.
One person shouts "jump out the window" while another offers the original fire brigade advice before the scale of the tragedy was understood, saying "stay in your flats".
Another voice can be heard saying "that's what happens when they don't pay their rent".
The video was shared by SOS magazine editor Kay Oldroyd, who asked the Metropolitan Police for guidance on reporting it as a hate crime.
She said she did not know the origin of the video, but it was being shared via messaging service Whatsapp.
Sky News has decided not to show the video because it is offensive.
Scotland Yard says its Grenfell Tower investigation team is "taking this matter very seriously", adding: "Any offences that have been committed will be fully investigated."
Commander Stuart Cundy said: "I am frankly appalled by the callous nature of the video posted online.
"So many people lost so many loved ones, and many more have been deeply affected. To mock that disaster in such a crude way is vile."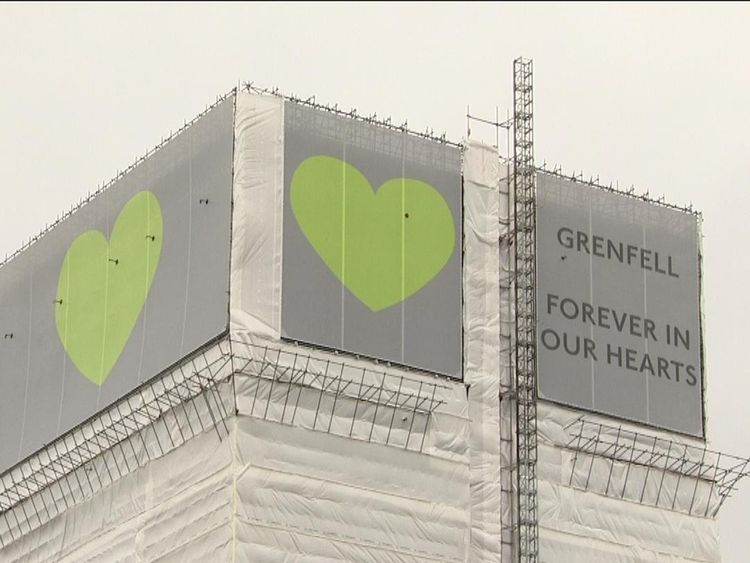 London Fire Commissioner Dany Cotton described the footage as "appalling and disturbing", adding it "cannot be justified on any level".
In a statement, the Justice4Grenfell campaign group said: "This was an unnecessary sickening act of hate against those who, through no fault of their own, have experienced the worst since 14 June 2017.
"This is clearly a hate crime and as a society we should never tolerate these types of blatant acts of hatred."
And Natasha Elcock, from fellow campaign organisation Grenfell United, said: "It's a disgusting video.
"Not only is it extremely upsetting to survivors and people who lost family, it's hateful and offensive to everyone that has been affected by the tragic events of that night."
More from Grenfell Tower
The video comes as families and survivors of the Grenfell tragedy continue to listen to evidence at the inquiry into the 2017 blaze.
The Grenfell Tower fire on 14 June last year killed 72 people.
[contf]
[contfnew]

[contfnewc]
[contfnewc]