Google workers walk out over treatment of women
Google employees at offices around the world are staging a walkout over the treatment of women at the com..
---
Google employees at offices around the world are staging a walkout over the treatment of women at the company after sexual misconduct claims were made against several senior figures.
The protest – dubbed Walkout For Real Change – has been organised a week after The New York Times published a number of allegations surrounding high-profile workers at the technology giant.
Andy Rubin, who created the Android mobile operating system, and Richard DeVaul, a director at the Google X research firm working on far-flung projects such as self-driving cars, are among those named in the article.
The former is said to have received a $90m (£69.7m) severance package when he left Google in 2014, despite the company concluding that sexual misconduct claims against him were credible.
He derided the story in a tweet, insisting it contained "numerous inaccuracies" and "wild exaggerations about my compensation".
But Mr DeVaul has acknowledged an allegation in the article that he made inappropriate advances towards a female job candidate in 2013 – and apologised for his "error of judgment".
He resigned on Tuesday without severance.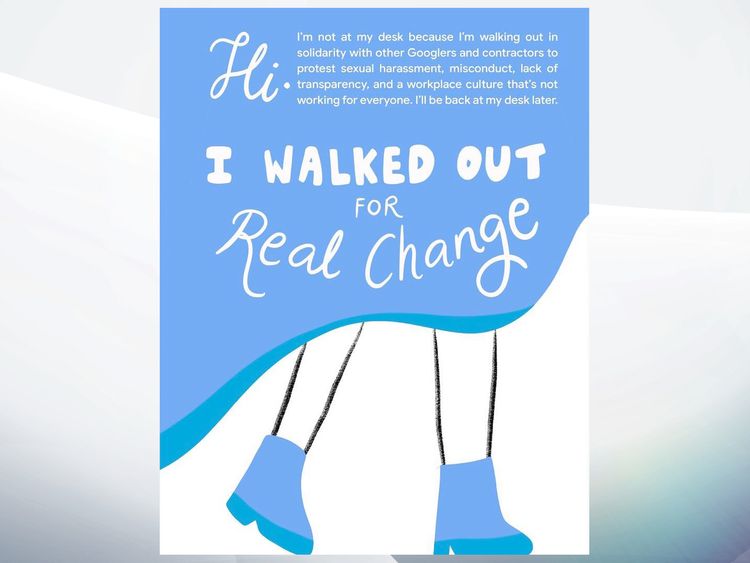 In response to the story, Google CEO Sundar Pichai sent a company-wide email to apologise for "past actions" by former employees and the response to them.
"I understand the anger and disappointment that many of you feel," he wrote.
"I feel it as well, and I am fully committed to making progress on an issue that has persisted for far too long in our society. And, yes, here at Google, too."
The email sought to reassure employees that the company had cracked down in sexual misconduct, disclosing that Google had fired 48 employees – without severance – for "sexual harassment" in recent years.
Mr Pichai said employees "will have the support they need if they wish to participate" in the walkout.
Thousands of Google employees are set to take part, with protests having already taken place in offices in the Far East – including Singapore.
More from Google
It is the latest expression of a backlash against the exploitation of women in business, entertainment and politics, with the technology sector a largely male-dominated field.
In a statement, Mr Pichai said: "Employees have raised constructive ideas for how we can improve our policies and our processes going forward. We are taking in all their feedback so we can turn these ideas into action."
[contf]
[contfnew]

[contfnewc]
[contfnewc]