EU leaders prepared to extend UK's Brexit transition period
The original plan is for a 21-month period starting March 30, 2019, as soon as the UK has left. But ..
---
The original plan is for a 21-month period starting March 30, 2019, as soon as the UK has left. But with the two sides failing to come to an agreement on how the new relationship will work, UK Prime Minister Theresa May has proposed extending this arrangement "for a few months." Speaking at a news conference in Brussels following a summit that was dominated by the Brexit issue, Donald Tusk, President of the EU's intergovernmental body, the European Council, said the bloc's leaders had not discussed the period of transition at the meeting, but said it was unlikely to be opposed."If the UK decided an extension of the transition period would be helpful to reach a deal, I am sure the leaders would be ready to consider it positively."Tusk nevertheless confirmed that insufficient progress had been made over the past two days to merit another more conclusive summit next month for final agreement on the terms of the deal, as previously planned."I stand ready to convene a European Council on Brexit, if and when the EU negotiator reports that decisive progress has been made," Tusk said. "And, we should be clear that as for now, not enough progress has been made."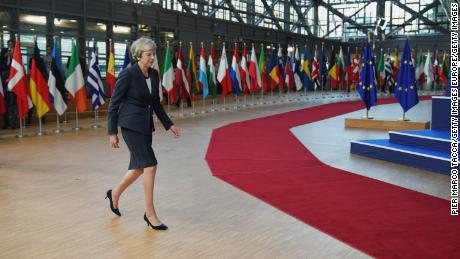 But both Tusk and European Commission President Jean-Claude Juncker struck an optimistic note, saying that a Brexit deal is closer."I feel today we are closer to final solutions and the deal, but it's maybe a more emotional impression than a rational one. As you know emotions matter in politics," said Tusk.Tusk said EU leaders had nevertheless agreed to continue the Brexit talks after hearing from May.Speaking after Tusk, May said Thursday there would be more difficult moments ahead as they reached the final stages of the talks, but added that she was confident in her ability to secure a good deal agreeable to all parties."We hope extended transition will not be needed," she said.German Chancellor Angela Merkel was more optimistic. "We have been able to reach agreement to a very large degree," she said."Time is of the essence, but still we do not have a solution on all fronts, for example we still have to deal with the Irish situation, there is still no really satisfactory answer to this; this cannot be completely separated from the question of what our relationship is going to look like in the future."The UK is scheduled to leave the EU in five and a half months but so far there has been no agreement on how that should be done, and how 45 years of common legislation in everything from trade to pesticides should be untangled. The thorniest issue of all is the question of Northern Ireland, which is part of the UK but shares a border with the Irish Republic that is currently open to goods and people. Neither the UK nor Ireland want to change that situation but the EU is insisting that once the UK is out of the EU some form of border controls should be established. With time running out, the fear is the UK could crash out of the EU with no deal on vitally important issues like tariffs and trade.Tens of thousands of people are expected to march in London on Saturday to demand a "People's Vote" over the terms of any agreement, which will also have to be ratified by the parliaments of the remaining 27 EU nations. "The gap between what people were promised in 2016 and the reality of any Brexit deal the Prime Minister finally manages to secure is growing bigger by the day," said Labour David Lammy MP, leading supporter of the People's Vote campaign."We are a million miles away from what the Brexit elite once promised. Brexit is already costing jobs and investment, damaging public services, threatening workers' rights and the environment, as well as closing the opportunities our younger generations will need. And it's only going to get worse."
Original Article
[contf]
[contfnew]

[contfnewc]
[contfnewc]